Printed clothing labels:
label types, folds and possible sizes
Printed clothing labels are made of white polyester satin or white cotton (a paper-like material).
The labels can be produced centre folded or unfolded. The centre fold the most common folding type, but for certain applications also unfolded labels may be senseful. Please note that there is a standard deviation of 1-2 mm at the final production. If you wish to produce asymmetric or special folds, please contact us.
Beyond folded or unfolded labels, we can also produce laser cut labels in round or any free shape.
Please note: Printed labels with a centre fold come with sew-in borders that are added by default. Those borders are always 10 mm high. The red area in the illustration are the dimensions of the label you should enter at the configuration. If you upload a file, also this should have the dimensions of the red area without the sew in borders!
Fold types and dimensions for printed fabric labels

no fold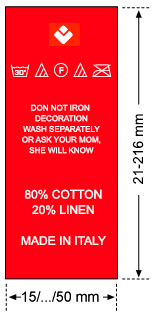 Min. width: 21 mm
Max. width: 216 mm
Min. height: 10 mm
Max. height: 50 mm
Centre fold
Note: By default, we will add two sew-in borders of 10 mm to all labels having a centre fold. This does not influence the price. If you do not want these borders, please mention it in the remarks field at the end of the label configuration.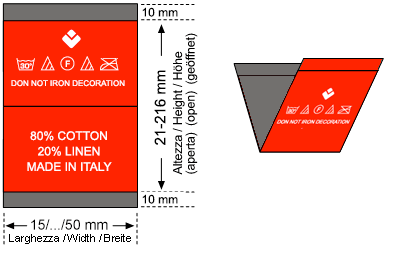 Min. width: 10 mm
Max. width: 50 mm
Min. height: 21 mm
Max. height: 216 mm