Professional woven size labels
in double density HD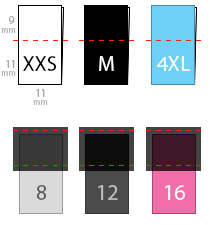 antiallergic and Oeko-Tex® 100 Standard certified

even sharper than in HD

due to double density weaving
soft and non grating
colour proof and washable at up to 100° C
edges cut with our unique softEdge ultrasonic technique, which makes them
extremely soft and smooth.
typesetting and design with the professional Myriad Pro font by Adobe®
on stock and available for all common UK and US sizes
combinable more than 145 Pantone colours
Dimensions
11 mm wide, 40 mm high with centre fold. In folded state, the label has a size of 11 x 20 mm.
After sewing in the two 9 mm borders, there will be a visible surface of 11 x 11 mm.

Available sizes
The complete line of international sizes as well as all UK, Italian, German, and French
sizes is available on stock as women's size labels, men's size labels, children's size
labels and of course men's underwear and shirt size labels., in details:
- UK children's sizes from 3 to 17
- UK and US women's clothing sizes from 8 to 16
- international women's and men's clothing sizes from XXS to 4XL
- EU men's underwear sizes from 1 to 8
- international men's shirts sizes from 36 to 46
- and also all Italian, French and German clothing sizes

Available colours
- white/black
- black/white
- any combination of more than 145 Pantone colours

Apropos colours: Remember good design principles.
For the interior of a garment, the same design principles apply as in graphics design or any
other arts sector. Therefore, a size label should generally be held in the same colours as
the brand or main label. A logo label in black and a size label in anthracite is not a very
good combo, even if the two labels are not applied close to each other. A consistent colour
line inside of a garment creates a good impression of the entire piece at sale.

Prices
see "Order here" section below

Availability, packaging and delivery
In both black/white combos on stock and available at any time
(in free selected Pantone colours or at quantities over 30,000 pcs. approx. 7 working days).
Packaged in transparent reclosable plastic bags of 500, 1000 or 10,000 pcs.
In Europe (incl. Switzerland) free of shipping costs.

Order here
Internationalized size labels
Available for the clothing industry also the following internationalized size labels, woven in HD quality
with any indications combo, cultivable from 500 pcs. per size.
Availability and lead times:
- Shown b/w and w/b standards permanently available on stock in all common sizes at 1 million pcs.
per size, delivery within 1-2 days.
- with individual size combos approx. 7 working days at up to 500,000 pcs., approx. 12 working days
at up to 10 million pcs., above on enquiry.
- also available in our 145 Pantone colours from 1,000 pcs./size.
Please contact us to tell us about your needs and get a quoting.